Global Case Management eDiscovery
Structured Information Management which makes it easy to Organize Information
When you face a legal dispute, regulatory inquiries, or an internal corporate investigation, handling your electronic data and the information it contains is vital for the proceedings to go smoothly. Legal requirements constantly change and the amounts of data that need to be processed continue to grow. This makes collecting evidence more difficult and more costly than ever before. Processing data correctly and keeping it organized increases the overall efficiency of the process and is the best way to lower the costs that come with evidence preservation.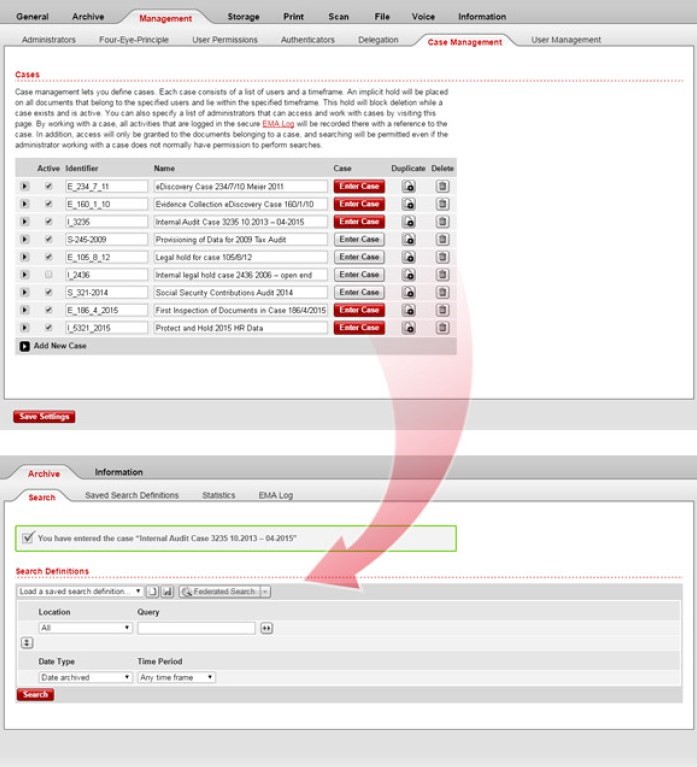 Our case management system makes it easy for users to organize data, perform early case analyses, and make use of technologically enhanced research tools. A dedicated permission management system ensures that users only receive access to relevant information.
Easily create new cases
Make relevant documents available quickly. This reduces the resources required for provisioning information.
Spend less time filtering information, which considerably lowers costs.
Quickly "freeze" or place a legal hold on documents.
Easily improve the accuracy and quality of search results.
Each action taken is carefully recorded in an audit log.
Many data sources are supported, including practically all common office and business documents (e-mail, file, paper, and more).
Our unique technology makes it possible to make large amounts of data accessible in a short amount of time; eliminate manual pre-selection using highly efficient full-text indexing and research capabilities. You no longer need to carefully select the documents that you want to work with.
Process all of your data independent of its source, format and location.
Ready to take your business to new heights? Contact our team today to discuss your consulting needs and schedule a consultation. Let's unlock the full potential of your business together.