In-Depth Real-Time Analytics: Primoris offers comprehensive analytics solutions that enable organizations to gain
SAP Analytics Cloud (SAC) is a Business Intelligence tool that allows you to create complex analytics and explore data from multiple sources within a unified system. Using the cloud solution in a SaaS (Software as a Service) model guarantees access to an always up-to-date and secure application, which doesn't require additional installations.
Integrates seamlessly with various source systems, including:
Key Features of SAP Analytics Cloud
SAP Analytics Cloud provides real-time analysis capabilities, ensuring users have immediate access to up-to-date data without any processing delays.
By eliminating data replication, SAP Analytics Cloud helps reduce storage costs
SAP Analytics Cloud allows for the analysis of existing data models.
With SAP Analytics Cloud, you can configure data updates to occur during off-peak hours when system users are not actively logged in.
Replication enables faster query performance and ensures data availability for real-time analysis.
SAP Analytics Cloud empowers users to create custom data models directly within the platform.
SAP data and analytics solutions have been recognized by the independent research and review platform TrustRadius and received a high percentage of positive ratings based directly on customer feedback. SAP Analytics Cloud earned TrustRadius The Top Rated Awards in the following categories: Business Intelligence, Corporate Performance Management, and Predictive Analytics.
Discover Examples Of Solutions Adjusted To Specific Industries
Finances
Comprehensive financial planning using Value Driven Tree methodology.
Effective accounting liquidity management.
Sales and Marketing
Key Performance Indicator (KPI) analysis.
Predictive analysis for sales planning.
Operations
Risk mitigation strategies for minimizing potential risks.
Efficient contract management practices.
Human Resources
HR strategy development utilizing analytics-driven insights.
Uncovering correlations between HR activities and business performance.
Informed business decisions based on real-time analysis of data from multiple sources.
Facilitated through diverse collaboration methods, such as report discussions, dashboard element commenting, and selective sharing with specific users.
Automates data exploration using the Smart Discovery feature and provides Smart Insights & Smart Transformations.
Cross-platform compatibility for desktop computers and modern mobile devices.
Leveraging advanced analytics, artificial intelligence, and machine learning, Smart Assist enables the identification of company strengths and weaknesses.
End-users can effortlessly create user-friendly reports using the Stories feature, and build advanced dashboards with Analytic Applications.
The paradigm for software delivery.
BI, Predictive & Planning in one service.
Live Connectivity enables SaaS for everyone.
Enterprise-wide scenarios covering full performance cycle.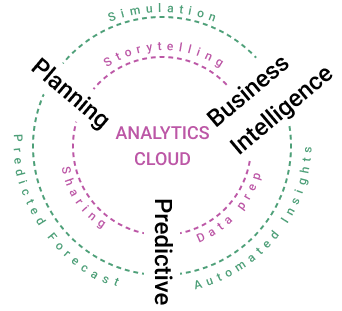 Ready to take your business to new heights? Contact our team today to discuss your consulting needs and schedule a consultation. Let's unlock the full potential of your business together.