Key Benefits of Using ERP for Business: The Benefits of Odoo
You may have never heard of one of the top ERP systems on the market. Do you know what Odoo is? You may have overlooked key software benefits that might elevate corporate operations to a new level.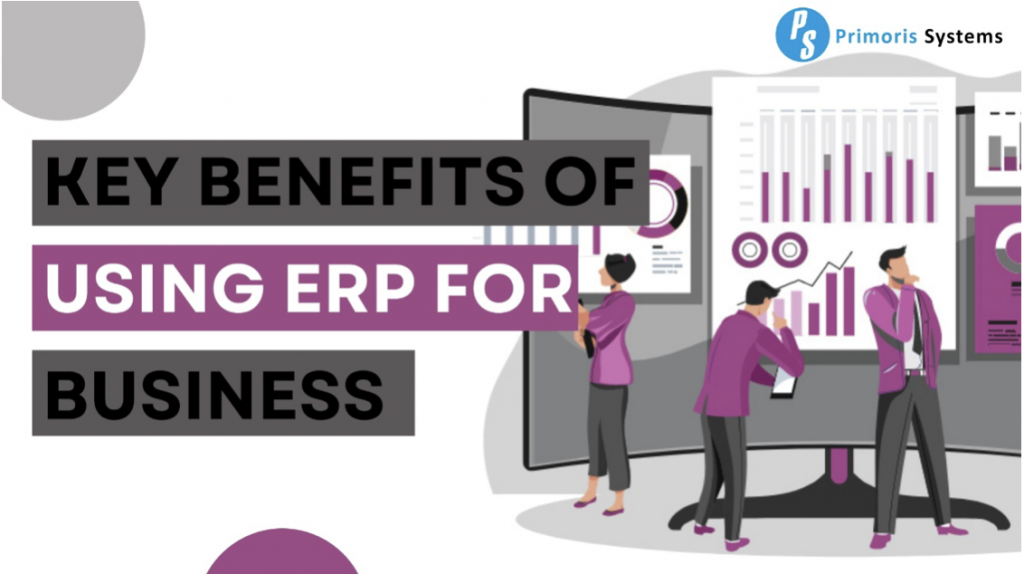 For supporting and integrating business operations including production planning, manufacturing, logistics, finance, accounting, warehouse management, and human resources, there is Odoo ERP, an online SaaS system.
The main advantages of Odoo are:
Integrate services and systems.
Automate the corporate procedure.
Make sure departments are safely sharing data.
For small and midsize businesses, Odoo ERP is a well-liked, useful, and practical software option. It is also one of the few open-source ERP systems that can support and scale up with high-growth companies.
Why is Odoo ERP Required for Effective Management in Business?
The ERP system's integration of corporate activities focuses on a number of benefits for businesses, including:
Monitoring of business processes in real-time.
All departments receive alerts.
Planning corporate-level strategies
Centrally located, online, and reachable from any device management.
Allowing for future app additions as your business grows.
Accounts are updated, orders are processed, and alerts are sent.
Supply chain management in manufacturing.
Keeping track of hiring and recruitment.
Personal information, benefits, and payroll are all managed. 
The range of services is excellent. Because of this, a lot of companies go to Odoo ERP developers to create a platform that is specifically designed to support every aspect of their organisation.
The Principal Benefits of the Odoo ERP Software
All ERP software, modules, and tools are intended to boost your business's profitability. They are designed to increase the effectiveness of your business processes so you may reduce expenses and save money. Contrary to CRM, it concentrates on every aspect of your organisation, including cost savings, improved visibility, and internal process simplification.
Across all departments, there is integrated information
Companies used to keep information in the databases of each department in the traditional ways. If other departments are interested in this data, they must contact the relevant department to request access.
The system uses Odoo to store all of the data from all departments in a single, simple-to-manage database.
Time is saved since employees may access the required information without departmental clearance.
Increased effectiveness of the business process
There is a significant chance that the information you wish to copy from several databases may not be the most recent version. It leads to erroneous conclusions without Odoo.
Once ERP has been implemented, everyone has access to and may update data from multiple departments to reflect the most recent data in the system.
Due to the fact that all information is updated in a single database, ERP lowers the possibility of file duplication. Decisions become more dependable and accurate as a result.
Overall business visibility
The biggest advantage of Odoo is management. It may regulate inventory levels on a daily, weekly, or even monthly basis, considering upcoming consignments that have not yet arrived. Knowing the status of the company's inventory helps management better manage working capital.
The availability of all firm data in one place enables greater cooperation and more efficient execution of difficult tasks.
Complete visibility improves workflows and makes it possible to follow interdepartmental operations efficiently and with ease.
Improved planning and reporting
A uniform reporting system for each procedure results from the implementation of Odoo across departments. 
An ERP system can provide helpful analytics and reports at any time and can create custom reports without the assistance of IT since it has a single source of truth. 
Software is developed by developers to assist management in comparing and analysing operations between departments and divisions without the bias of several emails and spreadsheets.
Due to its simple user environment and intuitive user interface, Odoo is simple to learn. Training teams of various ages and skill levels is doable.
As your business grows and new divisions are established, you may gradually add the necessary apps and functions. Software like Odoo may be easily customised to meet your unique plans and efforts.
It works in conjunction with other systems, such as current ERP or CRM, to save time through implementation, training, and enabling for development and evolution inside the programme.
What Are the Limitations and Drawbacks of the Odoo ERP System?
ERP software price. For small to medium businesses, the upfront expenditures of the software alone can be quite significant. However, the price is clear and straightforward, which is ideal for businesses on a tight budget.
Even while employing a cloud solution with a monthly payment schedule might reduce this cost, consumers can only access the system as long as they keep paying. Additionally, it increases in cost throughout the course of a product's life.
The customising procedure. Odoo cannot be customised without a committed group of experts. You cannot produce a professional perspective by using Google or YouTube lessons.

 

When the selected system doesn't actually meet company needs, many firms may additionally rely on customisation. It can result in the system's best practises being less effective and make future upgrades more challenging.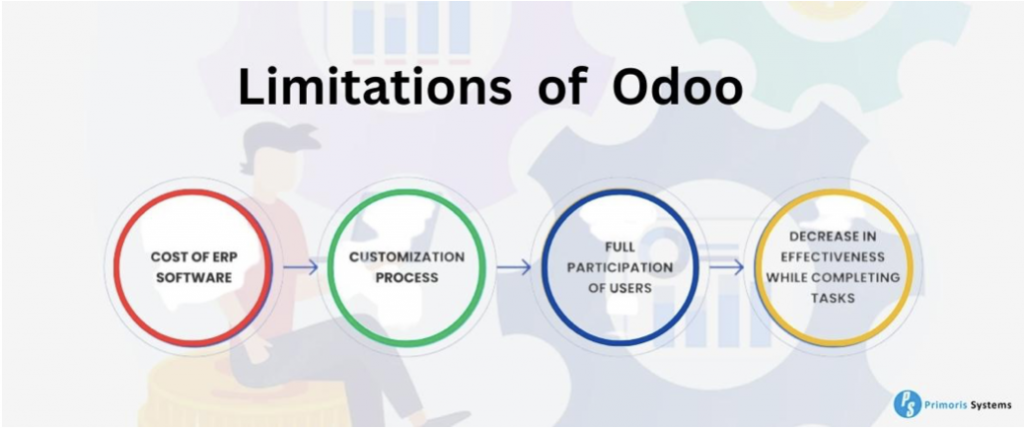 Loss of efficiency when carrying out duties. If your staff is unfamiliar with ERP, it may take some time before it starts to pay off. Additionally, it takes time to migrate the data, set up staff training programmes, etc. Since it affects how personnel carry out their regular tasks, the implementation process might result in significant time and financial losses.
Complete user involvement. By only developing software, Odoo ERP developers cannot significantly enhance your work life. Every employee should take part in using the system for a successful implementation. The staff must go through training and learning sessions in order to comprehend the system and become accustomed to it. Although it costs money and takes time, the investment is worthwhile. Implementation or operation failure may result from a lack of staff engagement or improper system handling.
To learn more about outsourcing Odoo ERP development and installation, feel free to contact us.