Understanding license type Basic vs Advanced for SAP Extended Warehouse Management
I want to draw your attention to a question that customers frequently ask regarding the functionality of SAP Extended Warehouse Management for license types Basic and Advanced. To optimize all of the benefits of the solution designed, it is necessary to comprehend the differences between each licensing type.
Customers and/or partners noticed there may be an influence on the solution designed based on the license type available for SAP Extended Warehouse Management during the life cycle project implementation, while finishing the Explore phase or more recently at the beginning of the Realize phase.
Let's get right to the point and identify the features that are and are not included in the Basic License type. Explain how the customer can utilize this information to comply with license requirements and use all required features for the warehousing system.
Advanced x Basic License Type
Before discussing the capabilities that are accessible for each license type, let's review and comprehend the SAP Extended Warehouse Management implementation model. Deployment of the solution might be either embedded or decentralized. either running SAP S/4HANA Cloud, private Edition on-premises or both.
Running SAP Extended Warehouse Management on the same client as SAP S/4HANA is known as embedded deployment, and it is feasible as of SAP S/4HANA 1610. Conversely, decentralized deployment entails running SAP Extended Warehouse Management on a distinct SAP S/4HANA system while remaining fully integrated with the primary master data and transactional data solution.
You can find extensive information on all the features and constraints available for each SAP EWM deployment type in the most recent version of SAP Note S/4HANA 2022, SAP Note 3218648 – SAP S/4HANA 2022 FPS00 and FPS01: Release information and restrictions for EWM in SAP S/4HANA.
Only embedded deployment scenarios qualify for the Basic or Advanced license type distinction. Decentralized deployment always calls for an advanced license type, which allows customers to use all of the product's features without worrying about breaking any rules. The specification of expanded features that necessitate an EWM license in the case of embedded EWM may be found on the SAP S/4HANA Feature Scope Description page under the chapter heading "SAP S/4HANA LOB functions".
The following IMG Customizing route includes documentation from the viewpoint of the solution: Master Data, Extra Warehouse Management, and Acknowledge Advanced Functions Use.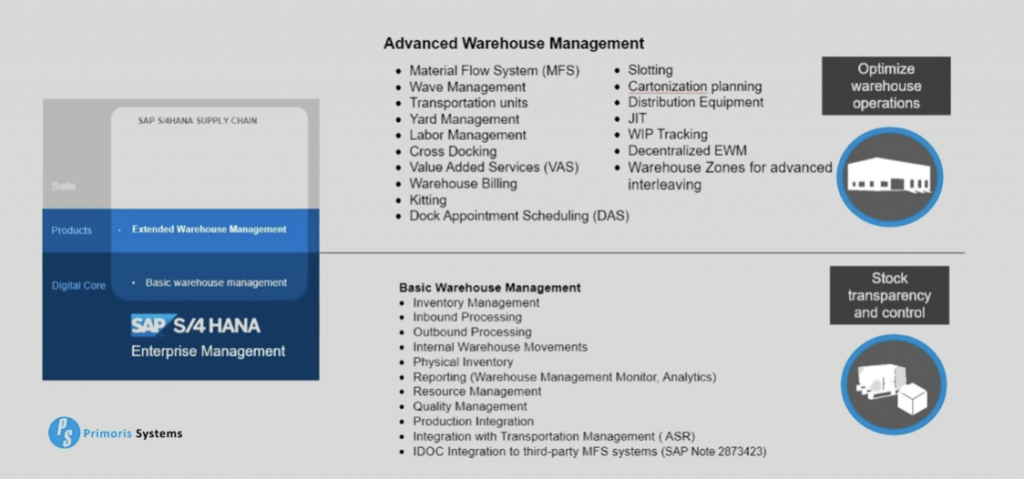 Features offered by each type of license
Customers may have inquiries like "What features are included on basic license type?" once they realize that the license type is only significant for embedded deployment models.
Customers that purchase a Basic license type can complete the main process from beginning to end, including Inbound and Outbound, Production Integration, Quality Management Integration, etc. The following details every step involved in obtaining a basic license:
Inventory Control
Inbound Handling
Outbound Operations
Movements within the warehouse
Physical Count
Reporting (Analytics, Warehouse Management Monitor)
Resource Administration
Quality Control
Integration of Production
Transportation Management Integration (ASR)
Integration between IDOC and external MFS systems (SAP Note 2873423)
If a customer intends to use certain features that are part of the primary process, such as the outbound process design's requirement to use Wave management or the production integration's requirement to use JIT – Just in Time, an advanced license may be necessary. This indicates that in order to use a few particular SAP EWM functionalities, such as:
Material Flow System (MFS)
Wave Control
Transport vehicles
Yard Administration
Labor Relations
Cross-Dock
VAS, or Value-Added Services
Inventory Billing 
Packaging
Scheduling dock appointments (DAS)
Sliding
Planning for canning
Distribution Tools
JIT
WIP Monitoring
Zones for advanced interleaving in warehouses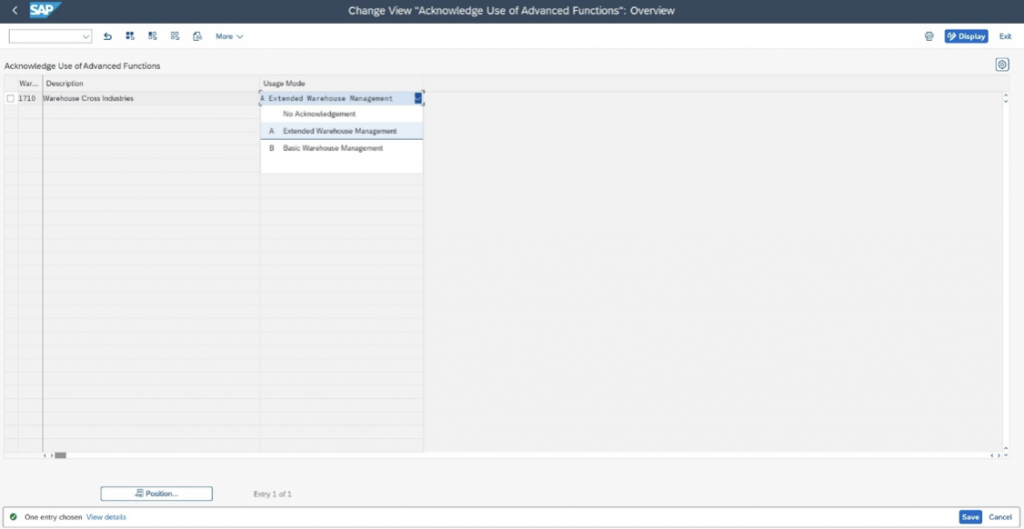 The table /SCWM/EXT_OBJ contains a list of the extended objects for SAP EWM embedded. Two reports are provided by the SAP Product Solution Team for users to run in their systems in order to determine which objects are being utilized on their warehouse system and how they are being used.
Since S/4HANA 2016 (and higher), the report /SCWM/RP_COMPLIANCE_CHECK is provided and tells you whether each warehouse system's customization or licensing is compliant or not.
Since S/4HANA 2022 (and higher), the report /SCWM/RP_LICENCE_SELF_AUDIT offers a view by warehouse number by month of usage of Basic and Advanced features by total number of items per month, average number of items per day, and active working days, compliance or non-compliance from the perspective of customization.
Customers need to be aware of the license types that are available for their solutions and the features that each license type includes. Additionally, be able to generate audit reports that describe how the solution is being used by the compliance customer and how the functionalities are being used.